The Vice President of culture and University Extension, collaborating with the delegation of students and the Dean of the Faculty of Medicine of the University Miguel Hernández (UMH), have developed the fifth session of the VII Cycle of Cinema and Health Series UMH  for next Monday, April 27. The session, this time focused on the figure of the doctor, will be held in the  Salón de Actos of the Severo Ochoa building of the campus of Sant Joan d'Alacant at UMH from 5:30 pm.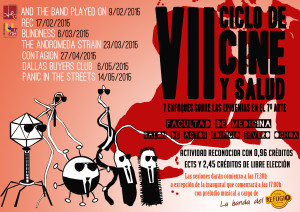 The figure of the doctor, as a medical professional, will be analyzed through the projection of  Contagion (2011).
Directed by the American Steven Soderbergh and based on a realistic thriller about the effects of an epidemic caused by an unknown lethal virus, tape manages to convey the anguish and uncertainty of medical professionals to try to understand and control it in its entirety.
The session moderators:
Reyes Pascual. Professor, Department of Clinical Medicine UMH and Chief of Internal Medicine Section, as well as Head of the Unit of Infectious Diseases of the University Hospital of Elda.
María Francisca Colom. Professor in the Area of Microbiology UMH.
Simply by attending to the  Cycle of Cinema and Health Series UMH, degree students will receive 1 ECTS credit, while undergraduate students will receive 2.5 credits of free election.
For more information about the  VII Cycle of Cinema and Health UMH Click the link above.