+DepartamentodeMedicinaClínicaUMH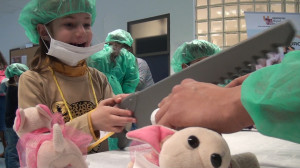 Last Sunday May 3 took place in Plaza Calvo Sotelo of Alicante the celebration of  The World Day of Health.
The holiday attended the workshops, activities, games and proposals on the part of the Students of Medicine from University of Miguel Hernández of Elche (UMH) for children.
University students, belonging to the International Federation of Medical Students Associations (IFMSA), commemorated a fun day full of proposals as the Hospital of Teddy Bears or the Workshop of Cardiopulmonary Resuscitation (CPR).
Two of the projects or activities star made by IFMSA Alicante they are mainly, The Hospital of Teddy Bears and Cardiopulmonary Resuscitation workshop (RCP). Both activities can be summarized as mainly in:
Hospital of Teddy Bears: initiative and workshop created so that children lose their fear to the white coat of a playful way.
Cardiopulmonary Resuscitation Workshop (RCP): information to attendees about AIDS, together with the collaboration of the Citizen Association of Alicante for HIV.
Are about 108 delegations worldwide that has IFMSA and 33 which are located in national territory. The students of UMH belong to the International Federation of Medicine Students Associations and are constituted by different working groups:
Medical Education
Reproductive Health
Sexuality and AIDS
Public Health
Human Rights and Peace
Exchanges
The different groups of the Federation of Alicante developed together several projects and working groups.
For further information on IFMSA-Alicante (Association of Students of Medicine of Alicante) can click here: ifmsaalicante.wordpress.com